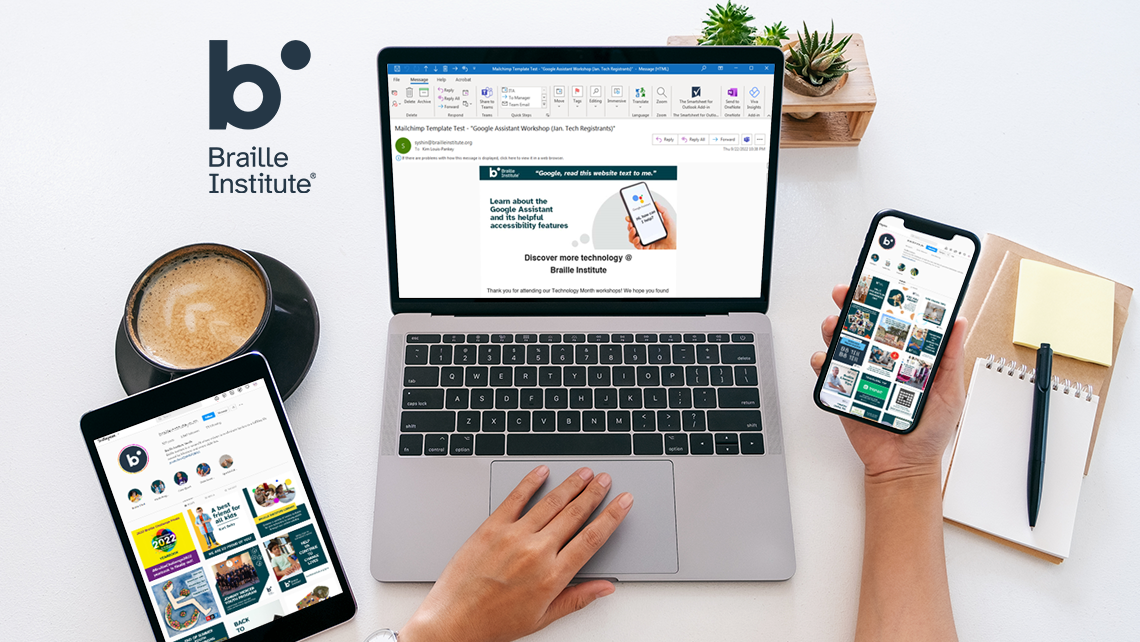 Organization
The Braille Institute of America is a non-profit organization with headquarters in Los Angeles. They provide programs, seminars, and one-on-one instruction for the visually impaired community in Southern California founded in 1919. 
Challenge
Immediately post-pandemic was an exciting time for Spotlite to begin working with Braille Institute. Students both adult and children, were keen to come back and engage in services, workshops and events.
The Work
The mission of Braille Institute is to assist people with vision impairment. Our mutual goals were to establish enrollment in these events and deliver. We were tasked with email campaign and social media management across five channels for two brands targeting youth and adult participants.
Achievements
We constantly identify opportunities to provide messaging and designs that drive action and enrolment. We have constantly increased open rates and click through on all email campaigns YOY, increased social followers and engagement and ultimately increased attendance across all programs. It was our great honor to attend Cane Quest and we continue to be inspired by the amazing team and students of the Braille Institute. 
If you'd like to learn more about Braille Institute or the services they provide, please visit their website at http://www.brailleinstitute.org To help support their mission, you can also make a donation directly to their organization. Every little bit counts and your contribution will go towards making a meaningful difference in the lives of those living with vision impairment.