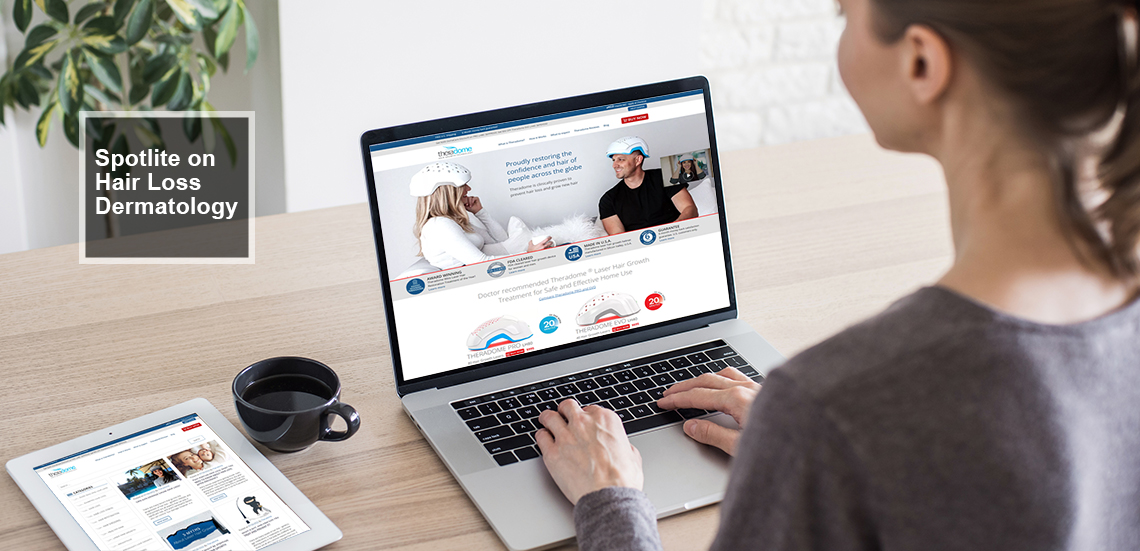 Organization
Theradome was invented by a NASA Kennedy Space Center biomedical engineer that struggled with hair loss. He became frustrated with the ineffectiveness, high cost, and inconvenience of available products on the market. He became determined to develop a solution to hair loss that was safe, effective, affordable, and convenient to use. Tamim assembled a team of practicing hair loss specialists, technology experts, and skilled engineers. The team developed a next-generation hair restoration device. Theradome is now the first over the counter, FDA cleared, clinical grade, wearable hair loss device.
Challenge
To deliver programs and content that will establish Theradome as the #1 recommended device by hair restoration physicians and the #1 DTC device. Spotlite has worked with Theradome since right after launch.
The Work
Spotlite has participated in years of marketing activities for Theradome. These include research, product positioning workshops, target profiling/personas. We have performed viability analysis using sales and marketing conversion data. Spotlite has created messaging, automated email campaigns, advertising and sales materials. We relaunched Theradome with new packaging and product information. As both B2B and DTC marketers, we focused on physician communication materials and videos, practice materials, patient information programs and physician testimonial videos. In addition, we assisted the sales team with presentations, conference planning, and global account marketing management.
Spotlite established Theradome on Amazon Seller Central including content development. We designed a Theradome Costco landing page content development and build. Initiated a reputation management management program, developed an intuitive knowledge base and help center. We architectured and built the Theradome customer service program including scripts, training programs and tool development, live chat and chat bot development. Spotlite manages social media content development and deployment, influencer management and influencer content development. We are proud of the many blog articles we have contributed to. Spotlite also established an opportunity for customers to consult with a Trichologist about their hair loss concerns.
Results
We couldn't be prouder of our part in the success of Theradome and the millions of people who can now have 'good hair days'! Theradome is recommended globally by 4/5 hair loss professionals, is the best-selling hair growth device on Costco.com and continues to have success on Amazon and directly on theradome.com.