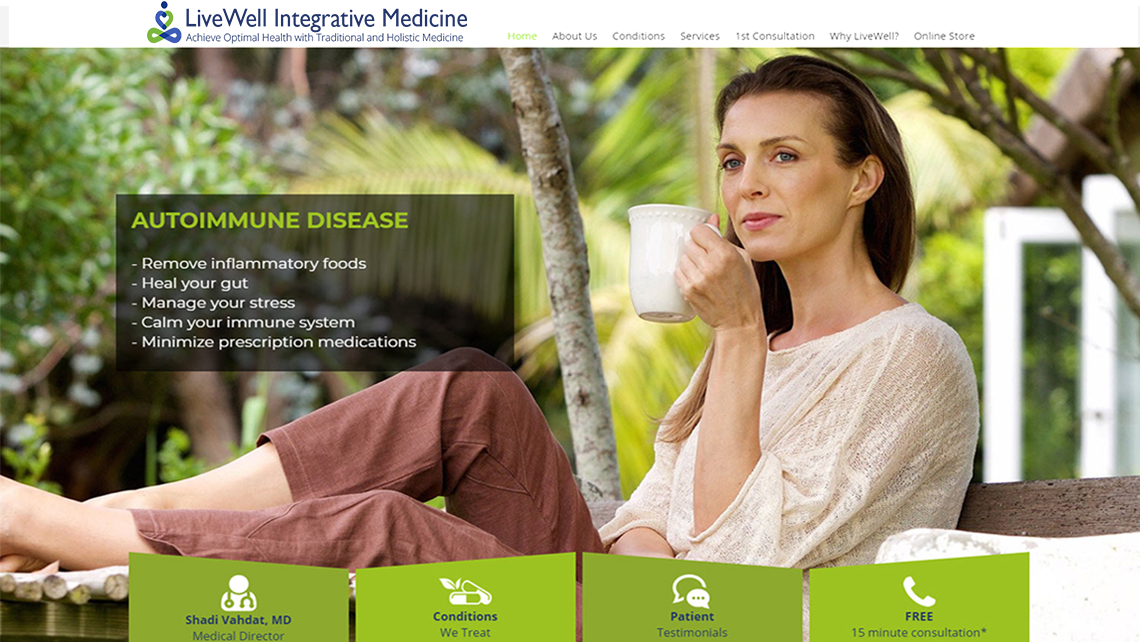 Organization
Dr. Vahdat is the founder of LiveWell Integrative. She has dedicated her career to diagnosing and addressing the root causes of illnesses through traditional and Functional Medicine. She takes the time to understand the underlying causes of medical problems. This is to help patients not only manage symptoms but to manage their journey to heal, prevent further issues, and to experience optimal health.
Challenge
Develop a brand, logo, look and feel and strategy for LiveWell Integrative Medicine. Develop a concierge brand that is targeted at an affluent market. Attract people that want wanting to manage their health. Some patients are searching for solutions to health challenges that traditional medicine is unable to provide.
Recommendation
Spotlite recommended the profile elevation of Dr. Vahdat and the core services provided to patients. We recommended robust reputation management strategies and digital footprint management.
Method
Spotlite started with a brand audit of LiveWell's digital footprint, positioning, competitors, market and available data analysis. Create a brand plan and creative position for short and long-term revenue elevation. We designed a new logo, look and feel and website including photography. Dr. Vahdat continues to be one of the few physicians qualified in both Eastern and Western Medicine. Spotlite has helped to communicate this to a select group of patients across Los Angeles.